Easy to use, 150 frequency point scanning is more accurate.
Comes with 2 cables, supports MINI USB and T-YPEC mobile phones with two interfaces.
Note: (For calibration, please take it to an open outdoor place, and move the transmitter more than 30 meters away to calibrate. Long press the function key and then power on the receiver to enter the calibration mode. )
1. The display resolution on the mobile phone is 640*480. Please note that 5.8G analog signal transmission is not a high-definition digital signal. Please do not purchase if you have high requirements for image quality.
2. At present, most of the tested Qualcomm cpu phones can support it, and MediaTek ( MTK  ) cpu does not support it except for some high-end models. Most models of Huawei mobile phones and Meizu mobile phones use MediaTek CPUs, so many models before 2017 do not support this device. 
3. Some models such as oppo and BBK need to turn on the otg function in the settings to connect normally.
4. iPhone does not support this receiver.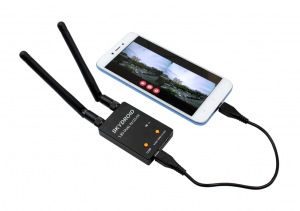 Use the QR code below to download the Android App